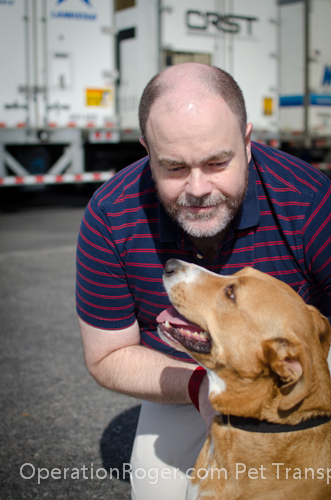 Shotzi, a Rhodesian Ridgeback Pitbull Mix was separated from his owner, Vanessa, due to an unfortunate family situation. Vanessa's spirits were raised when she found us online to help her get Shotzi moved from her previous home in Neveda to her new home in Niagara Falls New York. Many thanks to Clay, a reliable shuttle driver, for bringing Shotzi to meet us in Las Vegas. Shotzi was very liberal with his kisses as you can see in the slideshow of pictures. He loved everyone he met.

By far, Shotzi was one of the smartest dogs we had the pleasure of transporting. He already knew how to sit, stay, and give you five. We worked with him a little on heeling while walkig on his leash. This is when you teach him to walk beside you instead of pull you on the leash. He picked it up very quickly. At one point he even retrieved his leash when he knew he was getting ready to go for a walk. When you spoke to him, he would tilt his head as if he wanted to understand your words or perhaps did understand them. It was very cute and entertaining.
The first day of our trip Shotzi was a little anxious. He would alternate between the floor and the passenger seat. If there were bumps in the road, he would get up on the seat to check things out. We would constantly pet him and talk to him trying to soothe and reassure him. He would sit beside whom ever was driving and put his head on your lap. I believe the excitement wore him out enough that by day two he finally slept. He began to get comfortable with us and the truck and began to show us even more of his loving and loyal personality. Watching over us whenever we got out of the truck and jumping from seat to seat when we came back. Shotzi was energetic, playful and just a joy to be around.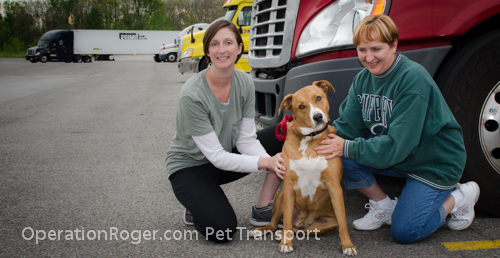 We are grateful to Becky, another shuttle driver from Ohio. We could not do the last Northern leg of the trip because it was not along our route. We know that she had to cancel some plans to help Shotzi get home. She met us and drove him the rest of the way to meet his owner near Niagara Falls. Shotzi showed her the same love that he seems to give all new friends he meets. She reported that he was over joyed to finally reunite with his owner.