Pauly's family needed him transported from Southern California to Rhode Island. We picked him up along with a kitten named Zorro because they were headed in the same direction. Pauly was very smart and very sweet. It was amazing how he was immediately fascinated by the outdoors. Every opportunity he got, he would be on the passenger seat gazing out the window. Occasionally we would have our front curtain up but he would just stick his head underneath and sometimes even venture into the dash so he could keep his watch on the outside world.

Many Thanks to Connie Jackson (shuttle driver) for bringing us both Zorro and Pauly. She drove out of her way to accommodate us and it was greatly appreciated. It was cool to meet her as well. Connie is an actress and has had roles in the TV Show NCIS, in the movie African Gothic and several others.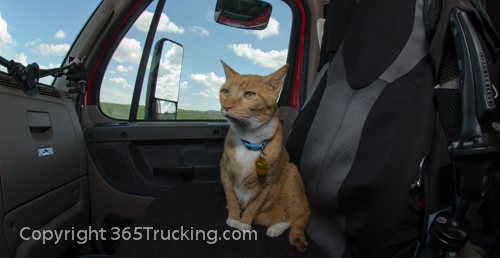 Although, very shy when we first picked him up, after a little encouragement and play time, he adapted extremely well to being in the truck. Zorro, the kitten we picked up on the same trip, was quite taken with Pauly. He would watch him in hopes of learning something about being a big cat one day but despite Pauly's loving personality, he was not really willing to play the fatherly role.
I found Pauly particularly amusing when he would make himself comfortable on the passenger seat. He'd lay on his back and roll all around stretching out until he looked like he was ready to fall off the seat completely. It was nice to see that even though he may have been anxious at first, he now actually looked pleasantly relaxed. I know that we are trying to help these animals get to a better home but they don't know that. I wonder sometimes where they think they're going or if they think our truck is their new home. So, I'm happy when we can make them as comfortable as possible along the way. I could tell that Pauly enjoyed his little adventure with us but I'm sure he was more than happy to get his paws back on solid ground again in his new forever home. Many thanks to Kevin, a friend of the new owner, whom graciously met us in New Jersey to take Pauly on the last leg of his journey, home to Rhode Island.